by Larry Klaes, space exploration enthusiast, science journalist, SF aficionado.
Note: this is a companion piece to Those Who Never Got to Fly.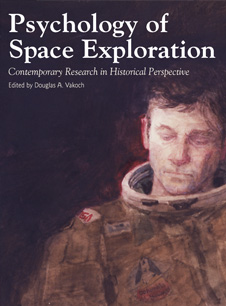 Early on the morning of February 5, 2007, several officers from the Orlando Police Department in Florida were summoned to the Orlando International Airport, where they arrested a female suspect. This woman was alleged to have attacked another woman she had been stalking while the latter sat in her car in the airport parking lot. Judging by the various items later found in the vehicle the suspect had used as transportation to the Sunshine State all the way from her home in Houston, Texas, her ultimate intent was to kidnap and possibly conduct even worse actions upon her victim.
While such a criminal incident is sadly not uncommon in modern society, what surprised and even shocked the public upon learning what happened was the occupation of the perpetrator: She was a veteran NASA astronaut, a flight engineer named Lisa Nowak who had flown on the Space Shuttle Discovery in July of 2006. As a member of the STS-121 mission, Nowak spent almost two weeks in Earth orbit aboard the International Space Station (ISS), performing among other duties the operation of the winged spacecraft's robotic arm.
It seems that the woman who Nowak went after, a U.S. Air Force Captain named Colleen Shipman, was in a relationship with a male astronaut named William Oefelein. Nowak had also been romantically involved with Oefelein earlier, but he had gradually broken off their relationship and started a new one with Shipman. Oefelein would later state that he thought Nowak seemed fine about his ending their affair and moving on to another woman. However, by then it was painfully and very publicly obvious that Oefelein had not thoroughly consulted enough with his former companion on this matter.
NASA would eventually dismiss Nowak and Oefelein from their astronaut corps, the first American space explorers ever formally forced to leave the agency. NASA also created an official Code of Conduct for their employees in the wake of this publicity nightmare.
Now I have no documented proof of this, but I strongly suspect that the Nowak incident played a large but officially unacknowledged role in the creation of the recent offering by the NASA History Program Office book titled Psychology of Space Exploration: Contemporary Research in Historical Perspective (NASA SP-2011-4411), edited by Douglas A. Vakoch, a professor in the Department of Clinical Psychology at the California Institute for Integral Studies, as well as the director of Interstellar Message Composition at The SETI Institute.
Quoting from a NASA press release (11-223), which appeared about the same time as the book:
Psychology of Space Exploration is a collection of essays from leading space psychologists. They place their recent research in historical context by looking at changes in space missions and psychosocial science over the past 50 years. What makes up the "right stuff" for astronauts has changed as the early space race gave way to international cooperation.
The book itself is available online in several formats.
From the Right Stuff to All Kinds of Stuff
It may seem obvious to say that astronauts are as human as the rest of us, but in fact our culture has long viewed those who boldly go into the Final Frontier atop a controlled series of explosions otherwise known as a rocket in a much different and higher regard than most mere mortals. Even before the first person donned a silvery spacesuit and stepped inside a cramped and conical Mercury spacecraft mated to a former ICBM for a brief arcing flight over the Atlantic Ocean in 1961, NASA's first group of human space explorers – known collectively as the Mercury Seven – were being presented from their very first press briefing in 1959 as virtual demigods who had the right skills and mental attitude to brave the unknown perils of the Universe.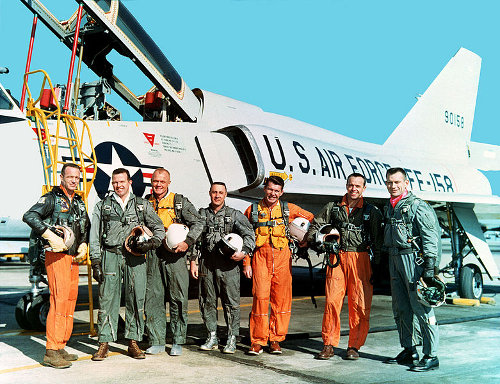 Image: The Mercury Seven stand in front of a F-106 Delta Dart. Credit: Wikimedia Commons.
The Mercury Seven astronauts were not just men: They were an elite breed of space warriors ready to conquer the Cosmos who also represented the best that the United States of America had to offer when it came to their citizens, their technology, and their science. The nation's first space explorers may have been ultimately human and limited in various ways, even flawed, but the agency's goal was to keep any issues in check through their missions at the least and preferably during their full tenure with NASA.
By the time of Nowak's incident, astronauts may not have been the demigods of the days of Mercury, Gemini, and Apollo, but they were still looked upon as highly capable people who ventured to places few others have gone and who did not give into human passions beyond a few moments of wonder at the Universe, realistic or not. This is why Nowak and Oefelein's behaviors were so shocking to the public even four decades after the first generations of space explorers.
There are two reasons why I brought up the dramatic events of 2007 with Lisa Nowak: The first is my aforementioned hypothesis that what took place between the former astronaut and her perceived romantic rival led to NASA feeling the need to examine their policies regarding the human beings they send into space and formally documenting the resulting studies.
The second reason is that Psychology of Space Exploration needed more of these personal stories about the astronauts and cosmonauts. Now certainly there were some of these throughout the book: The Introduction to Chapter 1 relays a tale about a test pilot who was applying to be an astronaut who told an evaluating psychiatrist about the time the experimental aircraft he was flying started spinning out of control. The pilot responded to this emergency by calmly leafing through the vehicle's operating manual to solve the immediate problem, which he obviously did.
Nevertheless, more of these kinds of stories would have not only made the book a bit less dry as it was in places, but they would have added immeasurably to the information content of this work.
As just one example, in Chapter 2 on page 26, the author mentions (from another source) that the Soviet space missions "Soyuz 21 (1976), Soyuz T-14 (1985), and Soyuz TM-2 (1987) were shortened because of mood, performance, and interpersonal issues. Brian Harvey wrote that psychological factors contributed to the early evacuation of a Salyut 7 [space station] crew."
The problem here is that the book then moves on without going into any details about exactly what happened to curtail these missions. Knowing what took place would certainly be useful in making sure that future space ventures, especially the really long duration ones that will be of necessity as we move past our Moon, could be the difference between a secure and functioning crew and a disaster.
Incidentally, the author noted that the Soviets, who were usually reticent about giving out many technical details or goals on most space missions manned and robotic, were more open when it came to the experiences of their cosmonauts and showed more interest in their physiological situations in confined microgravity situations than NASA often did with their astronauts.
The Soviet space program also had a longer period of actual experience with humans living aboard space stations starting in 1971 with Salyut 1 (or Soyuz 9 in 1970 if you want to count that early space endurance record-holding jaunt) which NASA did not share between their three Skylab missions in 1973-1974 until their joint involvement with the Soviet Mir station in the 1990s. Having the details from that era would be of obvious benefit and interest.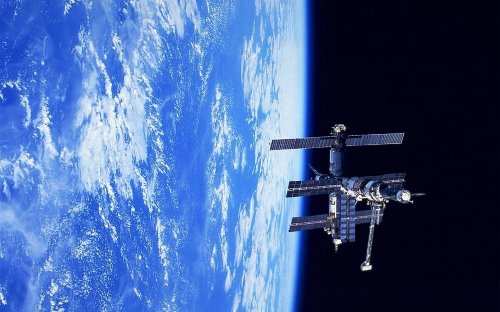 Image: The MIR station hovering over Earth. It deorbited in March 21, 2001.The station was serviced by the Soyuz spacecraft, Progress spacecraft and U.S. space shuttles, and was visited by astronauts and cosmonauts from 12 different nations. It endured 15 years in orbit, three times its planned lifetime. Credit: NASA.
Granted, as with a collection of research papers such as this, there are plenty of references. Finding the stories this way is not a problem if you are doing your own research and using Psychology of Space Exploration as a reference source, but for the more casual reader it could be a bit of a disappointment when these items are not readily available.
While I think most people who want to learn more about how our space explorers are affected by and respond to and during their missions into the Final Frontier will find something of interest and value throughout this book, Psychology of Space Exploration is largely a reference work that goes into levels of certain details as befitting literature of its type while missing a number of others which I think are just as important for a comprehensive view of human expansion into space, both in the past, the present, and most vitally the future.
The ultimate goal of putting people into space is eventually to create a permanent presence of our species beyond Earth. That is the grand aim even if their initial underlying purposes were more geared towards engineering and geopolitical goals. This is similar to the history of the early navigators who crossed the Atlantic Ocean from Europe to the New World, for they too had other plans initially in mind, although the ultimate result was the founding of the many nations that exist in the Western Hemisphere today.