by Larry Klaes, space exploration enthusiast, science journalist, SF aficionado.
Note: this is a companion piece to Those Who Never Got to Fly.
To give some examples of what I feel is missing and limited in representation in Psychology of Space Exploration, there is but a brief mention of what author Frank White has labeled the "Overview Effect". As the book states, this is the result of "truly transformative experiences [from flying in space] including sense of wonder and awe, unity with nature, transcendence, and universal brotherhood."
Clearly this is a very positive reaction to being in space, one which could have quite helpful benefits for those who are exploring the Universe. The Overview Effect might also have an ironic down side, one where a working astronaut might become so caught up in the "wonder and awe" of the surrounding Cosmos away from Earth that he or she could miss a critical mission operation or even forget what they were originally meant to do. Mercury astronaut Scott Carpenter may have been one of the earliest "victims" of the Overview Effect during his Aurora 7 mission in 1962. Apparently his very human reaction to being immersed in the Final Frontier in part caused Carpenter to miss some key objectives during his mission in Earth orbit and even overshoot his landing zone by some 250 miles. Carpenter never flew in space again, despite being one of the top astronauts among the Mercury Seven. It would seem that in those early days of the Space Race, having the Right Stuff did not include getting caught up with the view outside one's spacecraft window, at least so overtly.
Another item largely missing from Psychology of Space Exploration is the effects on space personnel after they come home from a mission. Edwin "Buzz" Aldrin, who with Neil Armstrong became the first two humans to walk on the surface of the Moon with the Apollo 11 mission in 1969, is one of the earliest examples of publicly displaying the truly human side of being an astronaut.
Although not revealed publicly until 2001 by former NASA flight official Christopher C. Kraft, Jr., in his autobiography Flight: My Life in Mission Control, the real reason Aldrin was not selected to be the first one to step out of the Apollo Lunar Module Eagle onto the Moon was due to the space agency's personal preference for Armstrong, who Kraft called "reticent, soft-spoken, and heroic." Aldrin, on the other hand, "was overtly opinionated and ambitious, making it clear within NASA why he thought he should be first [to walk on the Moon]."
Even though Aldrin was a fighter pilot during the Korean War, earned a doctorate in astronautics at the Massachusetts Institute of Technology (MIT), and played an important role in solving the EVA issues that had plagued most of the Gemini missions and was critical to the success of Apollo and beyond, his lack of following the unspoken code of the Right Stuff kept him from making that historic achievement.
Aldrin would later throw the accepted version of the Right Stuff for astronauts right out the proverbial window when he penned a very candid book titled Return to Earth (Random House, 1973). The first of two autobiographies, the book revealed personal details as had no space explorer before and few since, including the severe depression and alcoholism Aldrin went through after the Apollo 11 mission and his departure from NASA altogether several years later, never to reach the literal heights he accomplished in 1969 or even to fly in space again. Although Aldrin would later recover and become a major advocate of space exploration, he is not even given a mention in Psychology of Space Exploration. In light of what later happened with Nowak and several other astronauts in their post-career lives, I think this is a serious omission from a book that is all about the mental states of space explorers.
The other glaring omission from this work is any discussion of the human reproductive process in space. NASA has been especially squeamish about this particular behavior in the Final Frontier. There is no official report from any space agency with a manned program on the various aspects of reproduction among any of its space explorers, only some rumors and anecdotes of questionable authenticity.
As with so much else regarding the early days of the Space Age, that may not have been an issue with the relatively few (primarily male) astronauts and cosmonauts confined to cramped spacecraft for a matter of days and weeks, but this will certainly change once we have truly long duration missions, space tourism, and non-professionals living permanently off Earth. As with daily life on this planet, there will be situations and issues long before and after the one aspect of human reproduction that is so often focused upon. Unfortunately, outside of some experiments with lower animals, real data on this activity vital to a permanent human presence in the Sol system and beyond is absent.
I recognize that Psychology of Space Exploration is largely a historical perspective on human behavior and interaction in space. As there have been no human births yet in either microgravity conditions or on another world and the other behaviors associated with reproduction are publicly unknown, this work cannot really be faulted for lacking any serious information on the subject. What this does display, however, is how far behind NASA and all other space agencies are in an area which will likely be the determining factor in whether humans expand into the Cosmos or remain confined to Earth.
So Far Along, So Far to Go
What the Psychology of Space Exploration ultimately demonstrates is that despite real and important improvements in how astronauts deal with being in space and the way NASA views and treats them since the days of Project Mercury, we are not fully ready for a manned scientific expedition to Mars, let alone colonizing other worlds.
Staying in low Earth orbit for six months at a stint aboard the ISS as a standard space mission these days gives an incomplete picture of what those who will be spending several years traveling to and from the Red Planet across many millions of miles of space will have to endure and experience. If an emergency arises that requires more than what the mission crew can handle, Earth will likely be a distant blue star for them rather than the friendly globe occupying most of their view which all but the Apollo astronauts have experienced since 1961.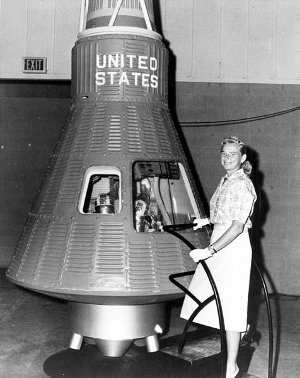 Image: Jerrie Cobb poses next to a Mercury spaceship capsule. Although she never flew in space, Cobb, along with twenty-four other women, underwent physical tests similar to those taken by the Mercury astronauts with the belief that she might become an astronaut trainee. All the women who participated in the program, known as First Lady Astronaut Trainees, were skilled pilots. Dr. Randy Lovelace, a NASA scientist who had conducted the official Mercury program physicals, administered the tests at his private clinic without official NASA sanction. Cobb passed all the training exercises, ranking in the top 2% of all astronaut candidates of both genders. Credit: NASA.
Regarding this view of the shrinking Earth from deep space, the multiple authors of Chapter 4 noted that ISS astronauts took 84.5 percent of the photographs during the mission inspired by their motivation and choices. Most of these images were of our planet moving over 200 miles below their feet. The authors noted how much of an emotional uplift it was for the astronauts to image Earth in their own time and in their own way.
The chapter authors also had this to say about what an expedition to Mars might encounter:
As we begin to plan for interplanetary missions, it is important to consider what types of activities could be substituted. Perhaps the crewmembers best suited to a Mars transit are those individuals who can get a boost to psychological well-being from scientific observations and astronomical imaging. Replacements for the challenge of mastering 800-millimeter photography could also be identified. As humans head beyond low-Earth orbit, crewmembers looking at Earth will only see a pale-blue dot, and then, someday in the far future, they will be too far away to view Earth at all.
Now of course we could prepare and send a crewed spaceship to Mars and back with a fair guarantee of success, both in terms of collecting scientific information on that planet and in the survival of the human explorers, starting today if we so chose to follow that path. The issue, though, is whether we would have a mission of high or low quality (or outright disaster) and if the results of that initial effort of human extension to an alien world would translate into our species moving beyond Earth indefinitely to make the rest of the Cosmos a true home.
The data recorded throughout Psychology of Space Exploration clearly indicate that despite over five decades of direct human expeditions by many hundreds of people, we need much more than just six months to one year at most in a collection of confined spaces repeatedly circling Earth. This will affect not only our journeys and colonization efforts throughout the Sol system but certainly should we go with the concept of a Worldship and its multigenerational crew as a means for our descendants to voyage to other suns and their planets.
This book is an excellent reflection of NASA in its current state and human space exploration in general. As with the agency's manned space program since the days when the Mercury Seven were first introduced to the world in 1959, we have indeed come a long way in terms of direct space experience, mission durations, gender and ethnic diversity, and understanding and admitting the physiological needs of those men and women who are brave and capable enough to deliberately venture into a realm they and their ancestors did not evolve in and which could destroy them in mere seconds.
Having said all this, what I hope is apparent is that we now need a new book – perhaps one written outside the confines of NASA – which will address in rigorous detail the missing issues I have brought to light in this piece. This request and the subsequent next steps in our species' expansion into space – which will also eventually take place beyond the organizational borders of NASA – cannot but help to improve our chances of becoming a truly enduring and universal society in a Cosmos where certainty and safety are eventually not guaranteed to beings who remain confined physically and mentally to but one world.